GRIDSMART mitigates cellular overages, simplifies carrier integrations and SIM activations all by using Zipit's connectivity management platform.
GRIDSMART, a Cubic company, specializes in designing, developing and selling connected traffic management solutions that help municipalities keep traffic moving and make roads safer for cars, trucks, bicycles and pedestrians.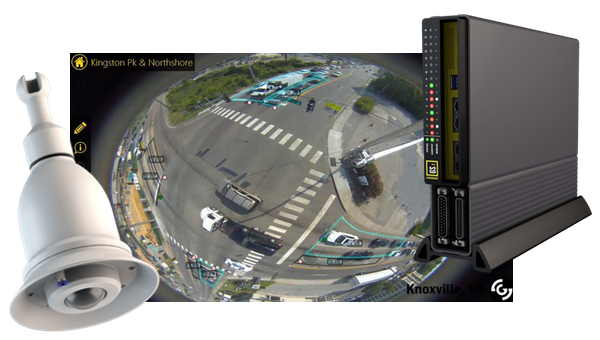 The GRIDSMART System (Source: GRIDSMART)
The company's flagship product - the GRIDSMART System - consists of a unique Bell Camera, GS2 Processor and Web-Based Client, that together serve as a simple and cost-effective alternative to the traditionally complex, prohibitively expensive traffic management systems of the past. In addition to having an innovative single-camera design, GRIDSMART's products leverage the power of cellular connectivity to give their customers the all-important traffic data that helps traffic managers mitigate congestion and keep cities on the move.
The challenge is - managing cellular data consumption and costs for connected devices can feel like a second full-time job for many companies - GRIDSMART included. The problem becomes exponentially harder as you grow to thousands of devices and beyond.
This is where the GRIDSMART team found themselves - a victim of their success, with operational hurdles in the way of further growth.
By using Zipit's IoT device activation and connectivity management platform, GRIDSMART was able to automatically move devices across rate plans and control device activations as-needed to mitigate overages, simplify relationships with cellular carriers and continue to scale uninhibited by technical challenges related to connectivity.
As Jeff Price, VP and General Manager of GRIDSMART tells it:
"Zipit has transformed the way GRIDSMART manages our operations and controls our costs, enabling us to focus on continuing to deliver the world's best traffic management system...Immediately after engaging Zipit, they were able to find ways to mitigate the unpredictability of cellular overages and reduce our wireless costs by 30 to 40%."
Zipit continues to work side-by-side with the GRIDSMART team, helping them streamline their operations as they expand their footprint - and transforming connectivity from a complex cost of doing business into a powerful asset in their toolbelt.
Interested in seeing more IoT success stories? Subscribe to our blog today.